Renaissance Knight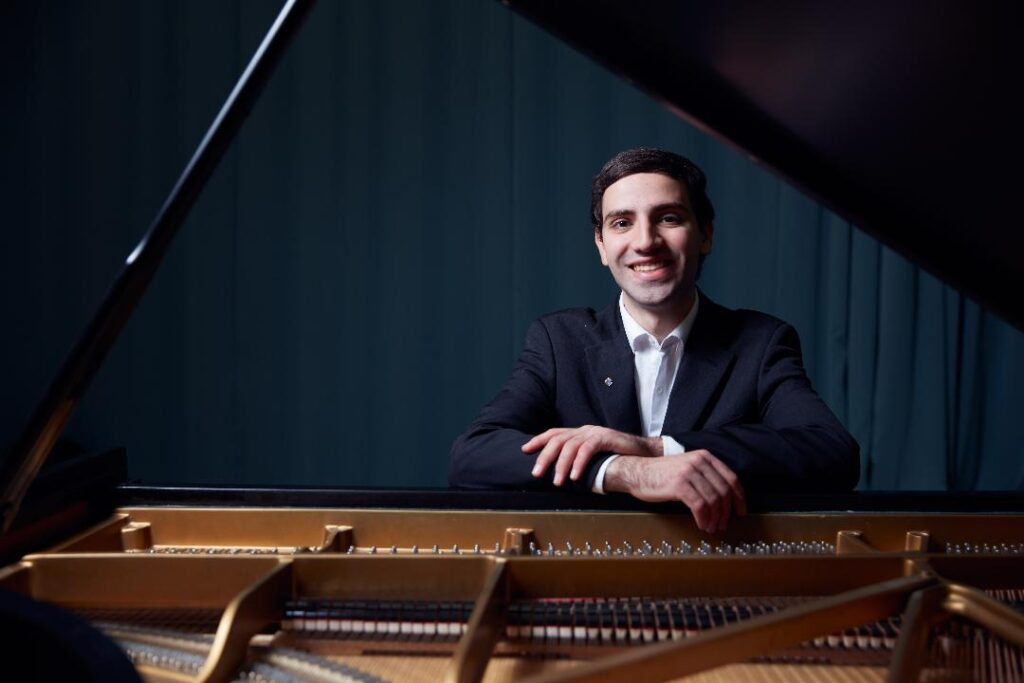 A Knight with a knack for math, science and music puts his talents to use for the love of God and neighbor.
This is a profile written about me by Patti Maguire Armstrong for the Knights of Columbus, "Columbia Magazine."
During a graduation ceremony at Indiana University's esteemed music school in spring 2019, Anthony Coniglio was called to receive his diploma. "Bachelor of Music in Piano Performance," the moderator announced. Then, she continued: "Bachelor of Science in Mathematics. Bachelor of Science in Physics. Bachelor of Science in Astronomy and Astrophysics."
Coniglio's fellow students jumped to their feet, cheering and clapping wildly. Most had no idea that their classmate had been earning three other degrees at the same time he was studying piano at IU's Jacobs School of Music. In addition, he would soon be traveling to England to study mathematics, one of 16 students to receive the prestigious Churchill Scholarship for a year of graduate study at the University of Cambridge.
Somehow, while earning four degrees, Coniglio had also made time for another commitment. Looking to meet other students who shared his Catholic faith, he joined Indiana University Council 15859 during his freshman year and participated in the council's charitable work. "I wanted to give back for the many blessings God has given me," Coniglio said.
Professor André Watts, a world-renowned pianist who taught Coniglio for four years, recalled meeting his other professors at a reception in honor of the Churchill Scholarship.
"We all asked each other the same question," he said. "'Was Anthony as extraordinary in your field as he was in mine?' The answers were 'Yes!'"
Watts added, "Even more noteworthy is his character. I will always remember Anthony as a humble, generous and kind human being. … He is one of the most fascinating students I have ever encountered."
THE GIFT OF MUSIC
Coniglio, who grew up in South Florida, showed an early interest in music; as a child, he would watch the "Rhapsody in Blue" segment of Disney's Fantasia 2000 over and over again. However, he did not begin playing piano until he was 9 years old. When he was diagnosed with Type 1 diabetes, his parents, John and Gail, enrolled him in piano lessons to take his mind off his medical condition.
"When I started, my goal was to learn how to play the Star Wars and Indiana Jones theme songs," Coniglio said. "But soon I was drawn to classical composers such as Bach, Beethoven and Chopin."
He then began attending professional concerts in Miami hosted by the Chopin Foundation of the United States.
"I was so moved by the pianist's performances that I challenged myself to learn the pieces I saw them perform," he said.
Coniglio is grateful for his first piano, a gift from his grade school music teacher at St. Mark Catholic School in Southwest Ranches, Fla. But within two years, he needed a better instrument to advance his technique. Buying a costly high-level piano wasn't realistic for the family, so the 11-year- old started praying the rosary, pleading with the Blessed Mother to intercede.
Six months later, his prayer was answered. Gail received an email message from a professional acquaintance who had heard Anthony play. The man and his wife decided to send the family a brand-new Yamaha piano.
"We were overwhelmed with gratitude and joy when the piano showed up on our front doorstep," Coniglio recalled. "My parents and I consider it a miracle and a gift from God."
He says that his parents always taught him the importance of giving back to others. Growing up, he spent many hours altar-serving at Masses in his family's parish, helping his sisters, Courtney and Gianna, with their homework, and tutoring other students in math.
At age 12, he launched a charity initiative called Music for Smiles, volunteering to teach piano to persons with disabilities, performing at nursing homes and playing at charitable events, including events sponsored by St. Mark Council 13045.
"Anthony served others with such fervor and always went out of his way to be generous, especially to his two sisters," recalled John Coniglio, a Knight since 2011. "Even at a very young age, he would share his toys with them without hesitation. Gail and I never remember Anthony complaining even once about doing chores or taking the garbage out. Although our son has received countless awards and achievements in music and academics, we are most proud of Anthony's virtues and character."
Music was not Coniglio's only interest; he also loved math and science, and started taking high school level math classes in seventh grade. A year later, his award-winning science project demonstrated that listening to a Bach fugue can increase one's memory. He liked to challenge his own memory, once learning various techniques to memorize hundreds of digits of pi.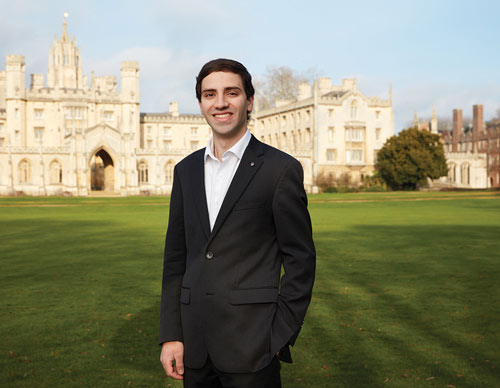 GROWING IN FAITH AND KNOWLEDGE
Indiana University became Coniglio's college of choice after he received a full scholarship from its Jacobs School of Music and was accepted to IU's Hutton Honors College. When he tested out of numerous classes in music and mathematics, he decided to attempt a triple major in music, math and physics.
As his studies advanced, with graduate-level courses in math and physics, his interests shifted in those directions. Coniglio's desire to solve difficult mathematical physics problems became almost an obsession. By his junior year, he set his sights on a graduate degree in mathematics. To improve his chances of getting into a top program, he challenged himself to earn a fourth degree, in astronomy and astrophysics. This required earning up to 31 credits per semester.
How did he handle everything? Time management was key. He relied heavily on to-do lists, and his days began early and ended late. Yet, as busy as he was, Coniglio anchored his life with prayer and faith. He was active at the university's St. Paul Catholic Center and as a Knight of Columbus, helping with Council 15859's charity fundraisers and volunteer activities for the St. Vincent de Paul Society. As a sophomore, he also represented his council at the Knights of Columbus College Councils Conference in New Haven, Conn.
"I was happy to have been a part of helping the community and raising money for good causes, all while growing in my faith and making friends along the way," he explained.
As a Churchill Scholar, Coniglio spent the 2019-2020 academic year in Cambridge, returning to the U.S. a few months early because of the pandemic. Studying at the alma mater of mathematicians and scientists such as Isaac Newton and Stephen Hawking made a lasting impression on him.
"Cambridge had so much to offer with its rich history," he said. "I learned so much from my classmates and professors. Their wealth of knowledge was truly inspiring."
Coniglio graduated with his master's degree in July 2020; he is now working on a doctorate in mathematics through Columbia University. He plans to use mathematics to delve deeply into Einstein's theory of relativity.
As he pursues teaching and doctoral research, Coniglio recognizes that he will encounter many in his field who reject the existence of God. However, studying materials from the Institute for Advanced Physics, founded by Catholic physicist Anthony Rizzi, has helped Coniglio deepen his understanding of the relationship between faith and science.
"The work of the Institute for Advanced Physics has truly been life-changing," Coniglio said. "It has opened my eyes by teaching me to look at the world through the lens of philosophers such as St. Thomas Aquinas. I plan on continuing to deepen my understanding of the truths I have learned through the IAP, and by doing so I hope to make a mark for Christ in the world."
Piano music is still part of Coniglio's life as well. He continues to play, as it helps him decompress after an intense day of mathematical physics. He recently studied one of the most challenging classical piano concertos ever written — Sergei Rachmaninoff's Piano Concerto No. 3 — just for fun.
*****
PATTI MAGUIRE ARMSTRONG is an author, freelance writer and correspondent for the National Catholic Register based in Bismarck, N.D.
This article appeared in the June 2021 issue of Columbia magazine and is reprinted with permission of the Knights of Columbus, New Haven, Conn.